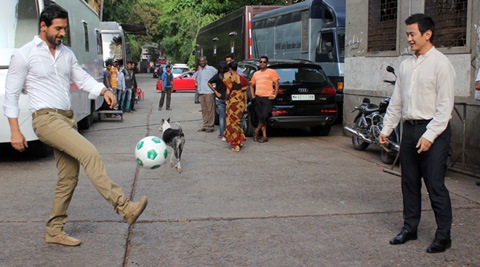 Bollywood actor John Abraham who co-owns the North East United FC, the Guwahati franchise of the upcoming Indian Super League, said his team management's aim was to concentrate on Indian players from that region only.
"We were very clear that we would select players from the Northeast. Most of the players in our team are from the under-19 lot and also players from under-20," he said.
North East United FC have retained a set of 14 domestic players from their tie-up with the I-League club Shillong Lajong FC.
He added that in the first year the team would play its matches in Guwahati and then look at Shillong and Sikkim as possible alternate venues.
Abraham said the franchise's focus is on grassroot level and would like to produce a strong team for the future, keeping in mind the U-17 World Cup that would be held in India in 2017, adding that the team is looking to rope in young international players.
"We have put success secondary. We are concentrating on grassroots. We know that India would be hosting the U-17 World Cup in 2017. We want to conc …